King's Toadstool is one of the many monsters added in the 1.2 update of Elemental Assault.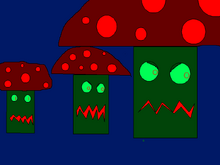 Leveling
Edit
King's Toadstool evolves at level 25 and level 45. This evolution timing is shared by all other Legendary monsters.
King's Toadstool starts off knowing two attacks, Toadstool Hit and Toadstool Bounce. At level 5 it learns Fire Toadstool. At level 10 it learns Resting Place. At level 15 it learns Fire Toad-Soul. At level 20 it learns Recovery Toadstool. At level 25 it learns Walking Fortress. And, finally, at level 30 it learns Toadstool Blaze.
Description
Edit
The Kin's Toadstool was once a mountain sized walking fortress for the Frog God. But when the war of the gods was over, the Frog God had no more use for him. So he shrunk down into a tiny, far weaker version of himself. He roams the earth, hoping to someday take revenge on his traitorous master.
Other stats
Edit
Rarity Level: Legendary
Gold if Sold: 1M
Cost in-shop: 100 Gems
Elements: Leaf/Fire