Heavy Magirock is a legendary monster that was added in Elemental Assault 1.2. He is the Type Staple for the Earth element.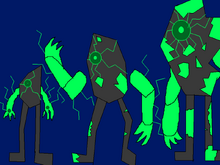 Leveling
Edit
Heavy Magirock evolves at level 25 and level 40. This evolution timing is shared by all other Legendary monsters.
Heavy Magirock starts off knowing 2 attacks, Wrecking Punch and Rocks. At level 5 it learns Magirocks. At level 10 it learns Lesser Shield. At level 15 it learns Rock Destruction. At level 20 it learns Greater Shield. And, finally, at level 25 it learns Magirock Slam.
Description
Edit
When Earth Elementals chip or break, these wounds never heal, but Magirock is different. Magic green rocks replace any missing parts, meaning he has lived far longer than any other Earth Elemental. His incredible abilities make for a deadly member of any team, and Wind monsters steer clear of his crushing power.
Other stats
Edit
Rarity Level: Legendary
Gold if Sold: 100K
Cost in-shop: N/A
Elements: Earth/None